The Adventures of BD Movie

Theatrical release poster
Film information

Directed by

Bony Ring

Produced by

Tink the Taco

Written by

Bony Ring
Troy Bottoroff
Leontyev Valeryevich

Music by

Troy Bottoroff

Studio

Warner Bros. Family Enterainment
Cartoon Network Movies
AveronDocrandom Productions

Distributed by

Warner Bros. Pictures

Release Date(s)

02004-10-20October 20, 2004
02006-07-19July 19, 2006 (re-release)

Running time

108 minutes

Language

United States

Budget

$24 million

Gross Revenue

$52,105,146

Followed by

The Adventures of BD Movie 2: Hater Strikes Back!

See also

transcript

•

gallery

•

allusions




animation errors

•

statistics

•

speculation
"
There is one hero who can save RDMville in his adventures...
"
 

— Movie tagline
The Adventures of BD Movie is a 2004 animated comedy film based on the animated television series The Adventures of BD, created by The AveronDocrandom Team. The film was directed by Bony Ring. It was produced by Warner Bros. Pictures and Cartoon Network Movies in association with AveronDocrandom Productions. It was the third Cartoon Network film that was released in theaters after The Jeremy Team Movie (which it was released on the same year).
Plot summary
[
]
Bony Ring, Troy Bottoroff, and Leontev Valeryevich read about a hidden device called the MD-ROM located somewhere within the RDMville city limits that will change the fate of RDMville and the world which depends on the desires of whoever finds it. Unfortunately, while on the search, Hater plots to drill big holes in every construction site in the city so he could search for the MD-ROM himself and rule the world. Once he finally succeeds in doing so, RDMville is turned into Haterville, populated by enslaved RDMville citizens. It's up to Bony, Troy, and Leontev to put everything back the way it was in the first six seasons of TAOBD... or at least the very beginning of the film.
Synopsis
[
]
TBA
Release
[
]
Home media
[
]
Main article: The Adventures of BD Movie/Home Video
The DVD was released on April 12, 2005, in separate widescreen and fullscreen editions. It was also released on Blu-ray + DVD combo pack on July 5, 2011.
A VHS release was also release on April 12, 2005.
Video Game
[
]
Main article: The Adventures of BD Movie (video game)
A video game was developed by Warner Bros. Interactive Entertainment, Inc. and published by Cartoon Network Interactive.
Soundtrack
[
]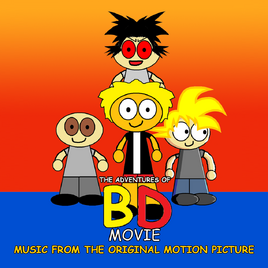 The Adventures of BD Movie: Music from the Original Motion Picture was released on September 28, 2004 by Warner Sunset Records.
Track listing
[
]
Boom Boom Beat - David Myhr feat. Puffy AmiYumi
Gonna Never Have to Die - Guided by Voices
Since You've Been Gone - Caesars
Carry the Zero - Built to Spill
Truth Be Told - Joel Plaskett
Fake Tales of San Francisco - Arctic Monkeys
Numbered Days - The Mighty Mighty Bosstones
No Limit - 2 Unlimited
What Were You Thinking - Spitalfield
I'm Bad at Sports - Optiganally Yours
Interlude - Troy Bottoroff
What I Like About You - Everlife
Eat the Prize - The Mae Shi
Gallery
[
]